We have a soft spot for our elderly patients at Lakeshore Animal Clinic!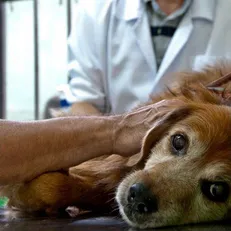 Arthritis is a common condition that affects dogs as they age, causing pain and mobility issues. It's crucial to provide proper care and support to our aging friends with arthritis. Let's explore practical tips and strategies for managing arthritis in dogs, including the innovative treatment option of Librela to enhance their quality of life.
Early Detection and Veterinary Care: Regular check-ups are essential for early detection of arthritis in dogs. We can perform a thorough examination and recommend appropriate treatments or management plans, including the use of Librela, the first injectable monthly antibody therapy that alleviates osteoarthritis pain for 1 full month per application.
Balanced Diet and Weight Management: Maintaining a healthy weight is crucial for dogs with arthritis. We will work closely with you to determine an appropriate diet and feeding plan. Joint-supportive diets or specific supplements can promote joint health, and when combined with Librela treatment, can help reduce inflammation and pain associated with arthritis.
Exercise and Physical Activity: Regular low-impact physical activity is important to keep your dog's joints mobile and muscles strong. Ask us about guidance on suitable exercise regimens.
Joint Supplements and Medications: Joint supplements, such as glucosamine and chondroitin, can support joint health and alleviate symptoms. We may also prescribe medications, such as non-steroidal anti-inflammatory drugs (NSAIDs), to manage pain and inflammation.
Comfortable Living Environment: Provide a comfortable and orthopedically supportive bed or resting area for your dog, especially during colder weather when arthritis symptoms may worsen. Minimize the need for jumping or climbing stairs and consider using ramps or steps to assist your dog.
Physical Therapy and Alternative Therapies: Physical therapy techniques, such as hydrotherapy or massage, can provide pain relief and improve your dog's range of motion. Complementary therapies like acupuncture or laser therapy may also offer additional benefits.
Arthritis in dogs is a manageable condition with a comprehensive approach. By working closely with us, incorporating treatments like Librela, along with a balanced diet, appropriate exercise, joint supplements, and a comfortable living environment, you can enhance your dog's quality of life. With proper care and attention, your loyal furry friend can continue to enjoy their favorite activities and bring joy to your life for years to come.