Veterinary nutritionists have formulated the diets we offer at Lakeshore Animal Clinic. So we can provide diets for medical conditions as well as convenient maintenance diets from our large choice of cat and dog foods.
We primarily carry Purina Pro Plan Veterinary Diets and Hills Prescription Diets.

Dr. Wilson chose Purina Pro Plan Veterinary Diets as his premium pet prescription diet after having visited the Purina research facility & production plant. He was exceptionally impressed by their focus on research & quality.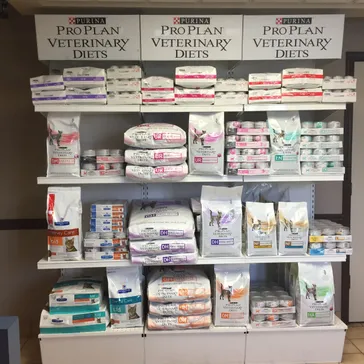 We provide special diets for pets with the following conditions:
Brain Aging
Cardiovascular Disease
Diabetes
Gastrointestinal Disease
Hepatic Disorders
Obesity
Oral Health Problems
Cancer and Cancer Recovery
Renal Disease
Urinary System Disorders
Various Allergies
Arthritis and Mobility Problems